---
The Austerity Playbook
A new musical by Mark O'Thomas - music by Andrea Vicari - directed by André Pink
Watch the full performance from Hoxton Hall
---
TICKETS NOW ON SALE !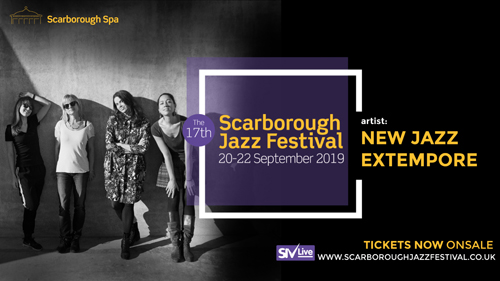 www.scarboroughjazzfestival.co.uk
---
BANDCAMP
Andrea's albums are now available to download from Bandcamp including "Lunar Spell" not previously digitally released

https://andreavicari.bandcamp.com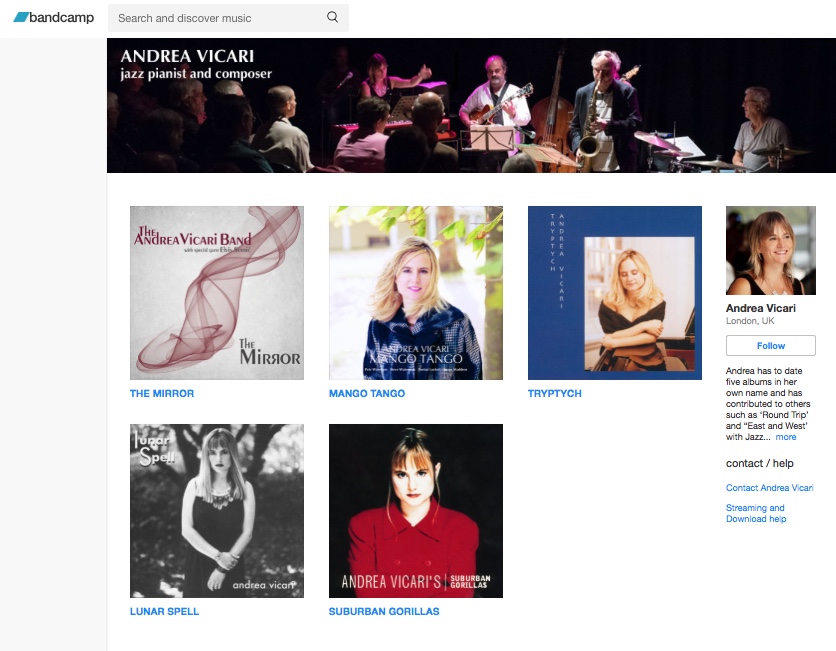 ---
THE AUSTERITY PLAYBOOK at HOXTON HALL
REVIEW BY JAZZWISE
http://www.jazzwisemagazine.com/breaking-news/15170-jazz-meets-theatrical-protest-with-the-austerity-playbook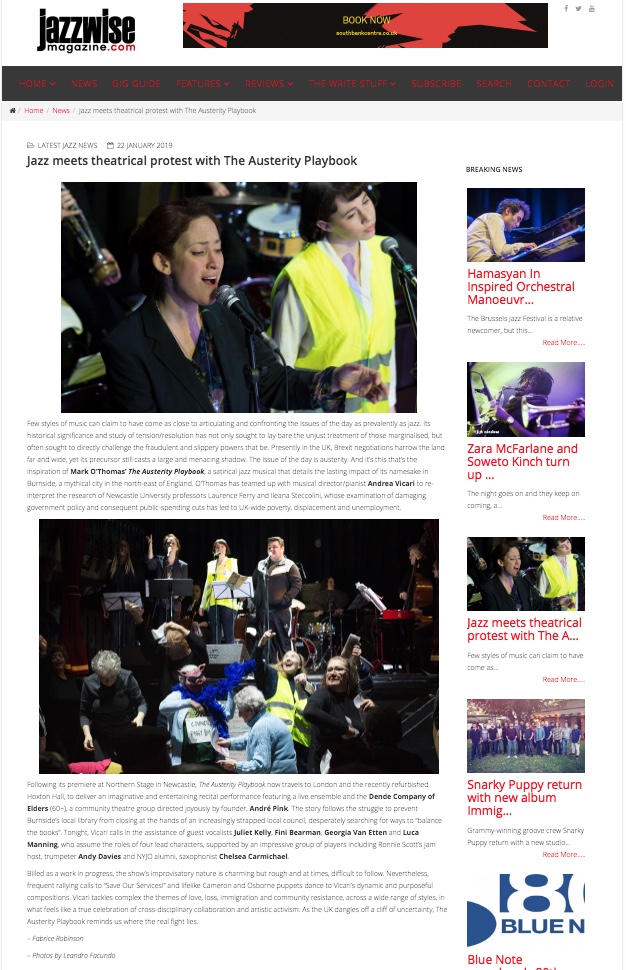 ---
THE AUSTERITY PLAYBOOK at HOXTON HALL
Friday 18 January 2019 8pm
The satirical jazz musical by Andrea Vicari and Mark O'Thomas
Directed by Andre Pink for the Dende Collective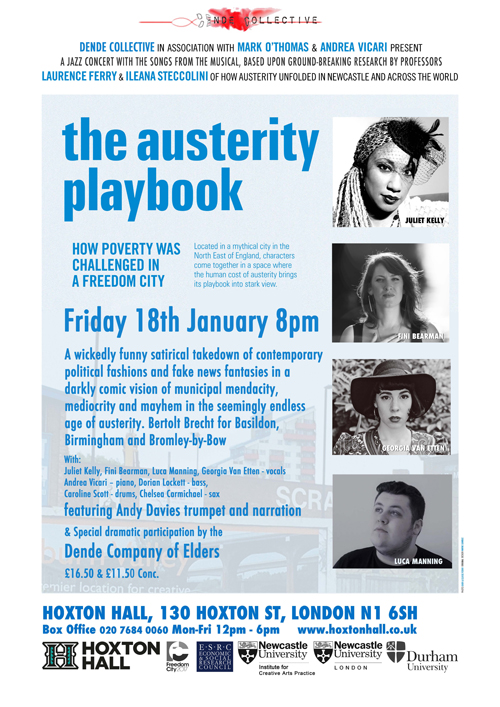 ---
New Jazz Ex-Temporé
international jazz ensemble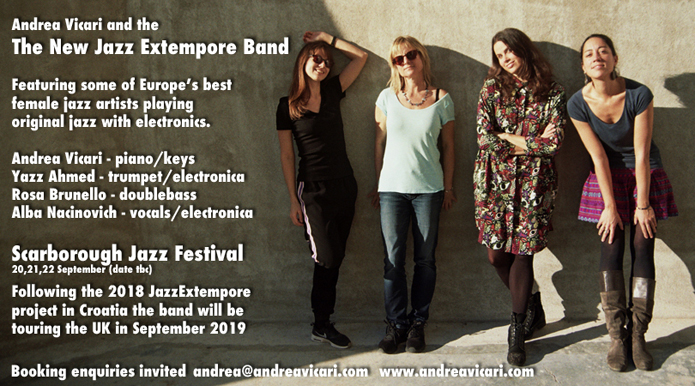 Some of Europe's best female jazz artists playing original jazz music with electronics
Andrea Vicari - piano/keyboards :
Yazz Ahmed
- trumpet/electronics
Rosa Brunello
- double bass :
Alba Nacinovich
- vocals/electronics
Following on from the 2018 Jazz Extempore project in Croatia the band will be touring the UK in September 2019.
Currently booked for Scarborough Jazz Festival
MORE INFO
To book this band, or Andrea's other ensembles email:-
---
JONATHAN KREISBERG INTERVIEW

Andrea interviewed New York based guitarist Jonathan Kreisberg before his sell-out gig at London's Pizza Express Jazz Club in Soho. Guitarist Jonathan Kreisberg has been steadily building his name as one of the most compelling composer/performers in Jazz.  Combining timeless melodicism with forward thinking lines and textures, His style and approach has created a strong following of fans around the world.  He frequently tours worldwide and records with his own groups as well artists such as Dr. Lonnie Smith, who says of Kreisberg "He is a passionate musician with great vision, and he is constantly in fiery pursuit of innovation."


Jonathan Kreisberg
---
Twenty-first-century woman song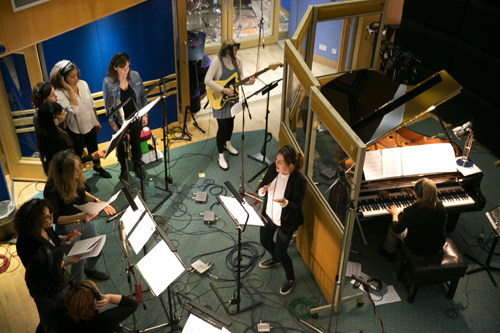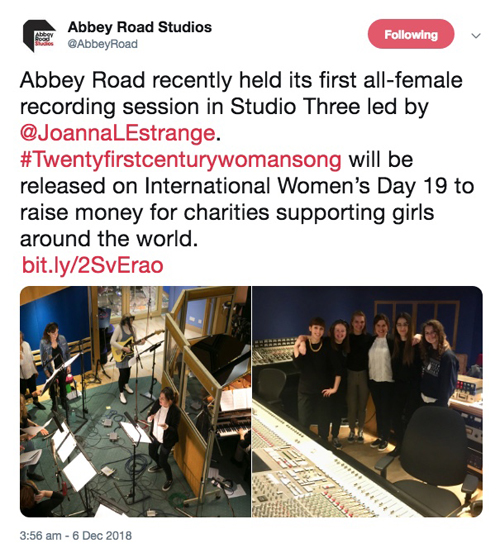 ---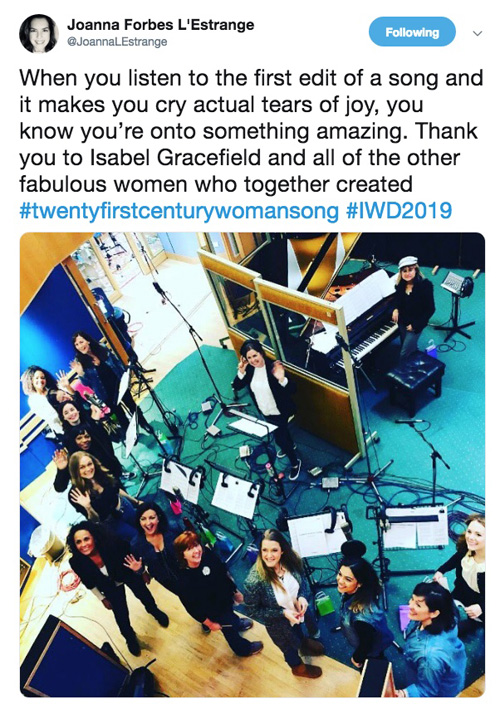 ---
Twenty-first-century Woman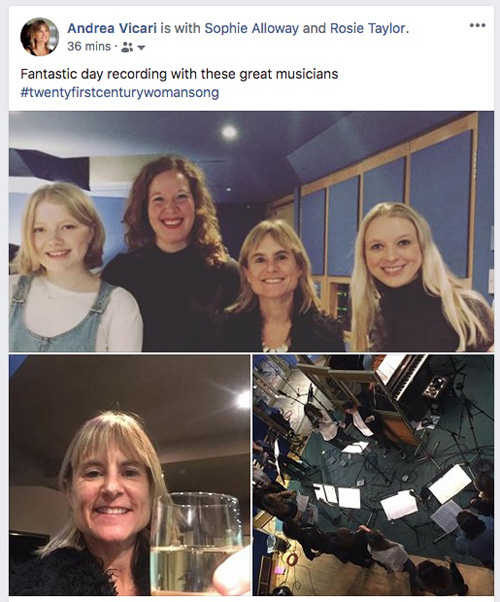 ---
Twenty-first-century Woman
Andrea is recording a charity single for International Women's Day with Joanna Forbes L'Estrange at the world famous Abbey Road Studios today (Thursday 22 November)
http://www.joannaforbeslestrange.com/twenty-first-century-woman-song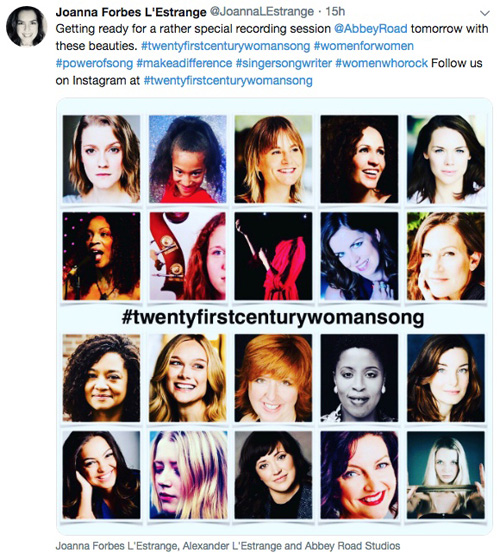 ---
Teignmouth Jazz Festival 2018
Andrea Vicari created a special arrangement for the Devon Youth Jazz Orchestra played in a gala concert opening the
Teignmouth Jazz Festival 2018
.
---
Twenty-first-century Woman
Andrea will be recording a charity single for International Women's Day with Joanna Forbes L'Estrange at the world famous Abbey Road Studios this week
http://www.joannaforbeslestrange.com/twenty-first-century-woman-song
"Twenty-first-century woman is a gospel-style song for women's voices and band, inspired by Oprah Winfrey's famous 2018 Golden Globes acceptance speech. It will be recorded at Abbey Road Studios on 22nd November 2018 by stars of London's West End scene, singers from Hollywood film soundtracks and an all-female band of top London session musicians. The recording of #twentyfirstcenturywomansong will be directed by the song's composer, Joanna Forbes L'Estrange, and released on Friday, 8 March 2019, International Women's Day. All proceeds from downloads of the track will go to CARE International to support women and girls around the world. Find us on social media at #twentyfirstcenturywomansong "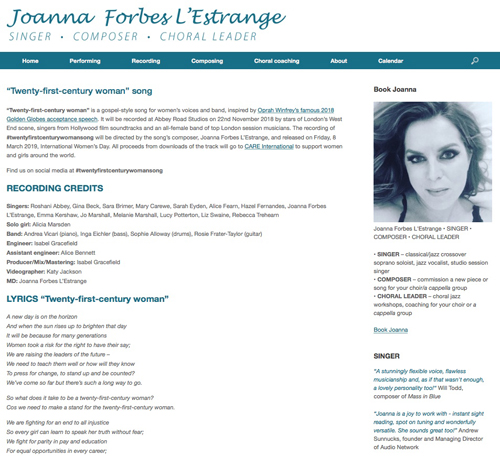 ---
Jazz Liburnia JazzExtemporé project 2018
---
---
Teignmouth Jazz Festival 2018
Looking forward to playing at Teignmouth Jazz Festival with my trio on Sat Nov 17th but especially with Devon Youth Jazz Orchestra on Fri 16th The Pavilions premiering a specially written new chart "Screen Time".
https://www.teignmouthjazz.org/2018-festival/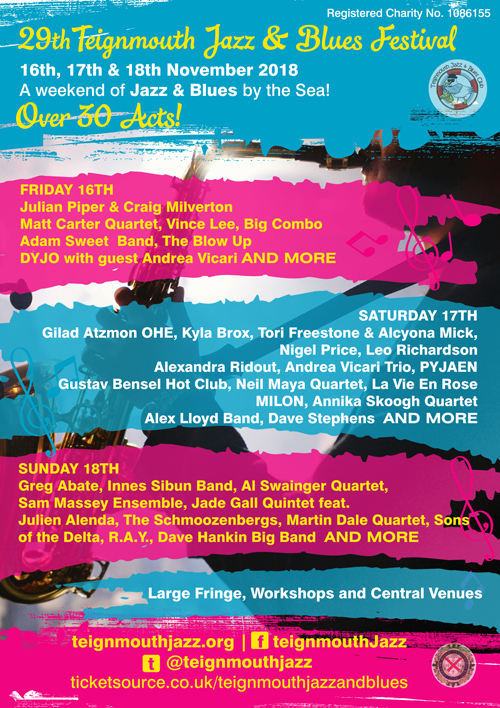 ---
Jonathan Kreisberg Interview
This Week (November 6th) Andrea interviews USA guitar virtuoso Jonathan Kreisberg on Andrea Vicari's JazzDoodles show on Jazz London Radio Tuedays/Thurdays 3pm Saturday 3.30pm
http://www.jazzlondonradio.com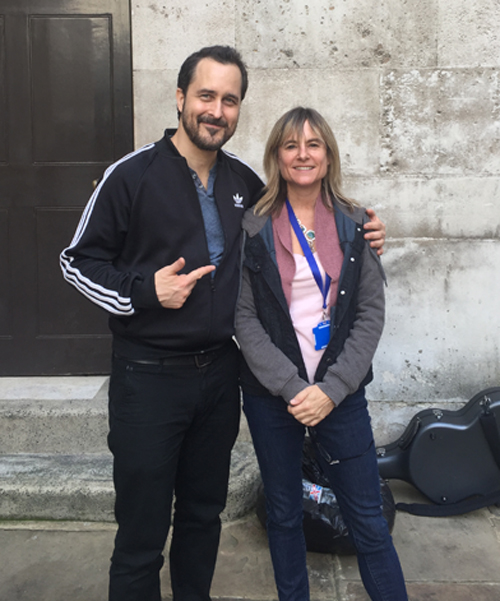 ---
Jazz Liburnia JazzExtemporé project 2018
Andrea Vicari
reunites with
Yazz Ahmed
for this year's Jazz Ex-Tempore project November 10-15th in Croatia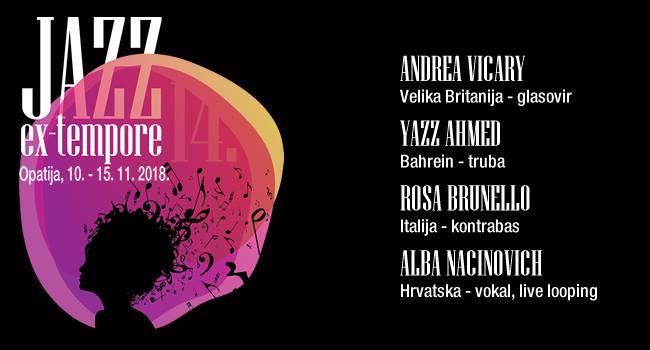 http://www.liburniajazz.hr/
---
National Youth Jazz Orchestra
Richard Butler MBE, Performing Arts Subject Leader at UVHS, said the workshop was once in a lifetime. "It was brilliant for the students because most of them have not experienced anything like this before , to get a workshop with top professionals and an artist like Andrea Vicari is amazing"
Read the article here
http://www.nwemail.co.uk/news/16977806.national-youth-jazz-orchestra-visits-uvhs/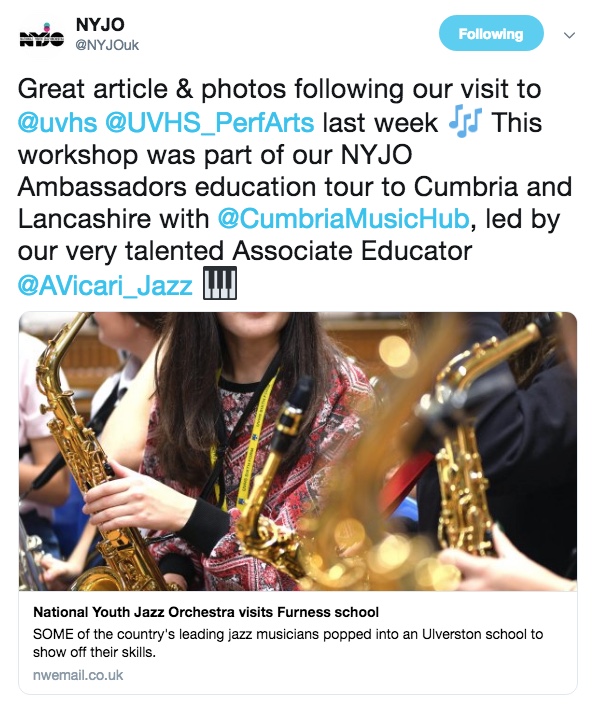 ---
National Youth Jazz Orchestra
Andrea is running some outreach workshops for the National Youth Jazz Orchestra.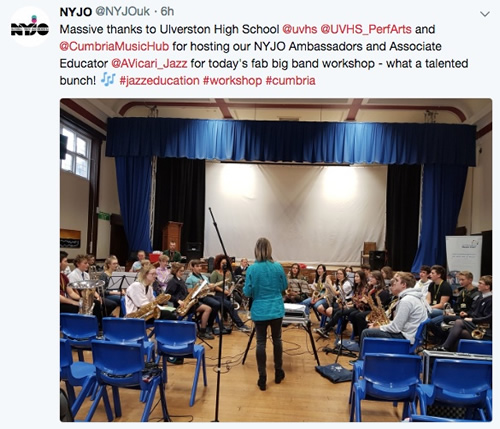 ---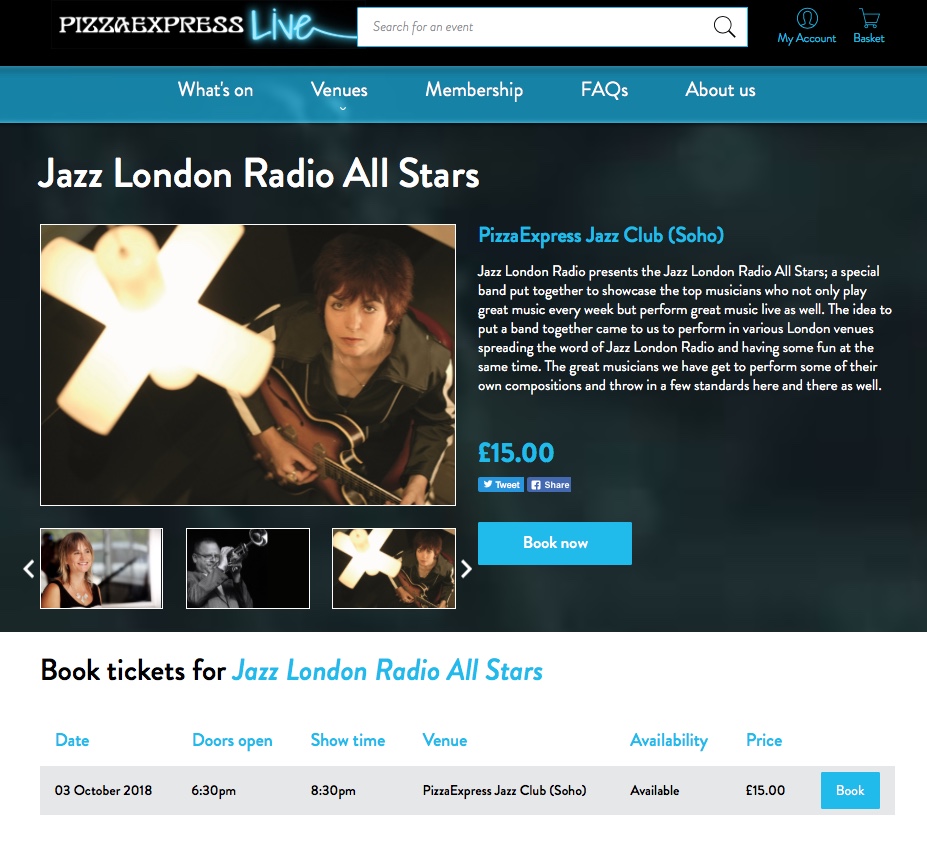 Jazz London Radio All Stars
Jazz London Radio believes in playing quality music 24 hours a day, 7 days a week. The Presenters share that passion and they bring that mentality to the station on a daily basis. They are significant figures on the jazz scene, either in jazz administration or as important composers who have released great records over the years. The Presenters will get together for a night of top class jazz, performing their best compositions for the delight of the Pizza Express Jazz Club.
Andrea Vicari (piano), Dorian Lockett (bass), Sophie Alloway (drums) + Chris Hodgkins + Emily Saunders + Kevin Davy +Deirdre Cartwright + Todd Gordon PizzaExpress Jazz Club (Soho) OCTOBER 3RD
Full details and booking at:
Pizza Express booking
---
PETER ERSKINE INTERVIEW

Andrea Vicari interviewed internationally renowned US drum star Peter Erskine who enjoyed 'RockStar" fame as part of legendary band "Weather Report" in the 1970s before a long an illustrious career alongside musicians such as Joni Mitchell, John Taylor, Eliane Elias, Steps Ahead, Steely Dan, Diana Krall, Kenny Wheeler, Mary Chapin Carpenter, The Brecker Brothers, The Yellowjackets, Pat Metheny and Gary Burton, John Scofield etc. He appears on 700 albums and film scores, and has won two Grammy Awards, plus an Honorary Doctorate from the Berklee School of Music (1992).


http://www.andreavicari.com/audio/PeterErskinePodcastEdit.m4a
---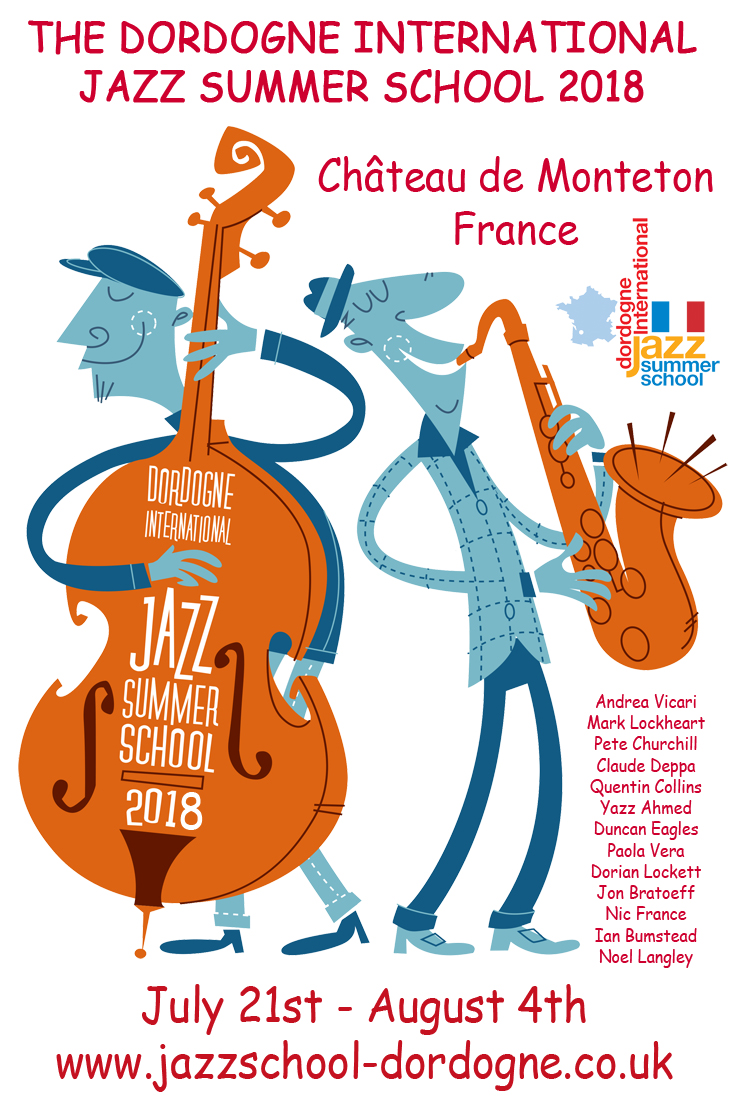 ---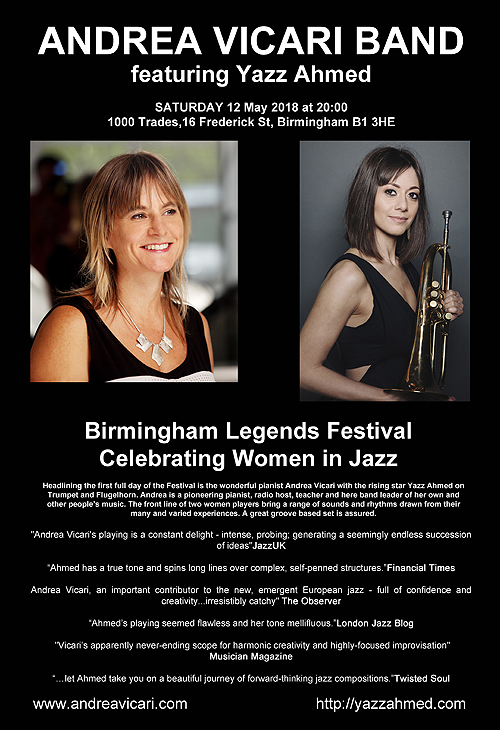 ---
Andrea will be performing at the Birmingham JazzLegends Festival on Saturday May 12th with
Yazz Ahmed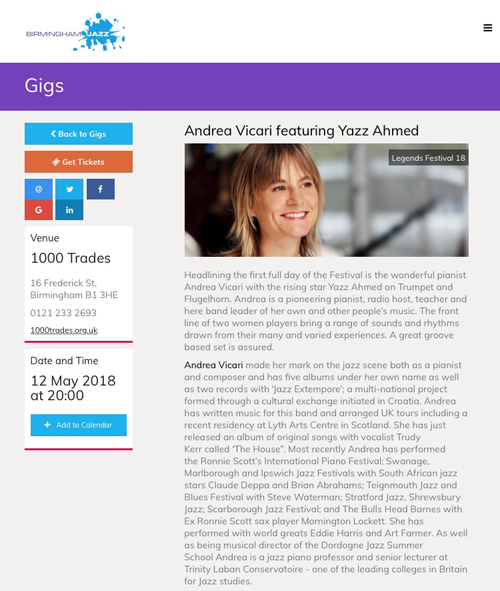 ---
Andrea will be performing at the Greenwich Gin and Jazz Festival on Friday May 4th with The Claude Deppa and Clare Hirst Band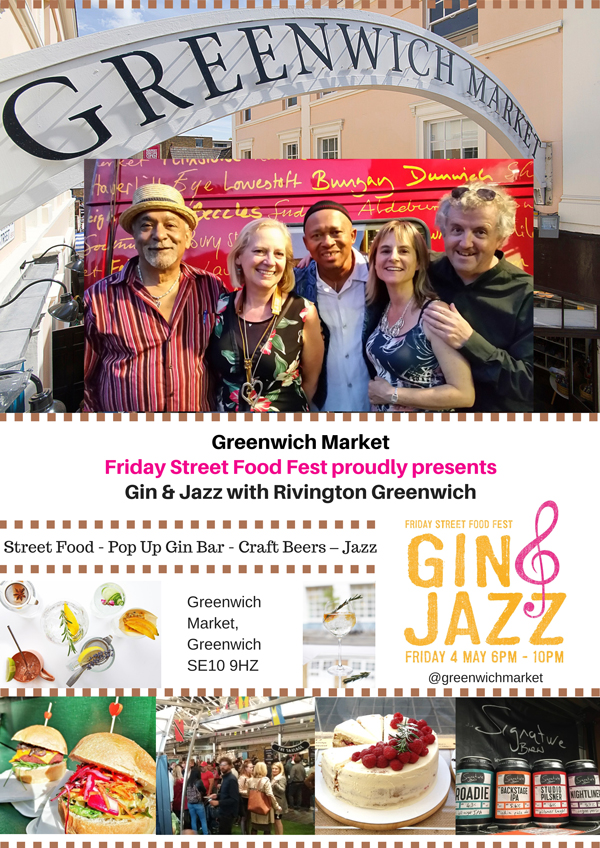 ---
Andrea Vicari with the Julian Marc Stringle Band in November,
with Alec Dankworth and Dave Barry
---
CHINA 2017
3rd Maritime Silk Road Art Festival

Elvis Staniç Group
Quanzhou, China 3rd Maritime Silk Road Art Festival
Elvis Stanic - guitar, Andrea Vicari - piano, Tonci Grabusic- drums; Damjan Grbac - bass
Andrea Vicari will be travelling to Quanzhou in China to perform at major concert halls in the Silk Road festival as part of the
Elvis Stanic
group. Andrea has had a long-term collaboration with the Croatian guitar through their participation in the '
JazzExtempore'
project.
---
---
East and West" .. demonstrates their apparently never-ending scope for harmonic creativity and highly-focused improvisation"
The Musician Magazine
Jazz Ex-Temporé "An important and enjoyable contribution to the new, emergent European jazz - full of confidence and creativity." Dave Gelly - Observer Jazz Critic
"fabulous, fluid playing by all with Andrea's sweet, choral vocal tone gelling the irregular bar lengths into a melodic melange." London Jazz News
---
The Austerity Playbook
A new musical by Mark O'Thomas
music by Andrea Vicari
directed by André Pink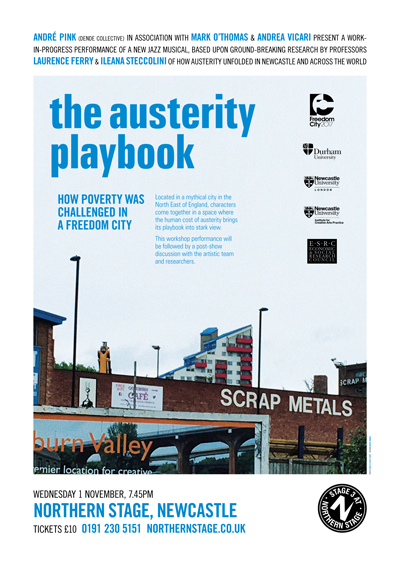 Northern Stage, Barras Bridge,
Newcastle Upon Tyne, Tyne and Wear, NE1 7RH
http://www.northernstage.co.uk/

With the kind support of the Economic and Social Research Council, Newcastle University and Durham University
Dende Collective in association with Mark O'Thomas and Andrea Vicari
---
EFG LONDON JAZZ FESTIVAL
JazzLondonRadio Allstars
November 16th
Jazz live @The Crypt, St Giles Church, Camberwell Church Street, London, SE5, Camberwell
http://www.jazzlive.co.uk/
Trumpeters Chris Hodgkins and Kevin Davy, guitarist Deirdrie Cartwright, vocalist Emily Saunders and pianist Andrea Vicari with Dorian Lockett and Nic France
---
Ronnie Scott's
INTERNATIONAL PIANO FESTIVAL
August 21st
Andrea will be performing on August 21st 2017 at the world famous Ronnie scott's jazz club in Soho, London as part on the annual international piano festival alongside such global greats as Peter Beets (Holland), Tord Gustavsen (Norway)
---
The new book of original piano pieces by
ANDREA VICARI
available to buy from lulu publishing www.lulu.com/spotlight/AndreaVicari

A-Rhythm-A-Tik is a collection of 27 original pieces in a variety of styles, levels and keys and is suitable for teenagers and adult learners. The music includes improvisation over simple harmonic structures and the level is from grades 3-6 (Associated Board of the Royal Schools of Music).
There are contemporary pieces influenced by jazz, classical , popular, TV themes and light music. Much of the music has a strong rhythmic element and identities such as swing, funk and latin. Many of the improvisations focus on groove rather than complex harmony. The arrangements are flexible and the performer can choose whether to include the improvisation or not. Rigid observing of the notated music is not necessary and again pianists may deviate from the written material as long as much of the important elements of the composition are in place. The music comes with a series of online lessons by the composer herself.
LESSONS
---
New Recording : THE HOUSE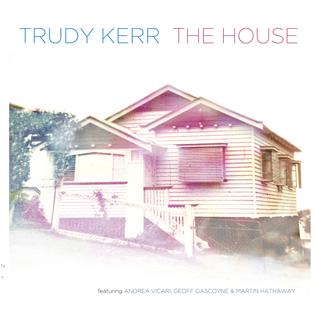 Andrea has recorded an album of original songs and arrangements with UK based Austrailian singer Trudy Kerr - "The House" on Jazzizit records. Trudy Kerr's latest album features four original songs co-written by Andrea and Trudy; and one Vicari vocal composition; alongside Trudy's reworkings and arrangements of classic standards and lyrics set to jazz instrumental pieces.
---
JazzLondonRadio
Andrea recently began a career as a broadcaster and journalist with a weekly show on JazzLondonradio.com including interviews with international jazz greats like pianist John Taylor, drummer Bill Stewart, Larry Goldings, Hiromi, Marc Copland, John Abercrombie and harmonica star Antonio Serrano.
http://www.jazzlondonradio.com
Podcasts of her interviews can be heard here
http://www.jazzlondonradio.com/category/podcast
Shows air Tuesday and Thursday at 3pm and Saturday at 3.30pm
---
South Africa 2016
*Andrea Vicari was appointed to the judging panel of the 2016
University of South Africa Jazz Piano
competition which ran from 26 January to 06 February 2016 Unisa Muckleneuk Campus, Pretoria, South Africa.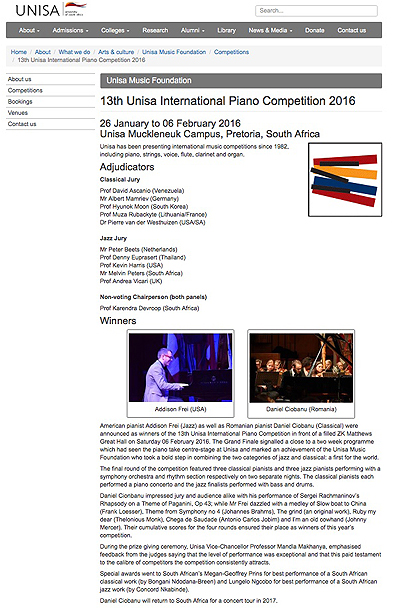 ---
SHORT BIOGRAPHY
Andrea Vicari
made her mark on the jazz scene both as a pianist and composer and has five albums under her own name as well as two records with 'Jazz Extempore'; a multi-national project formed through a cultural exchange initiated in Croatia. Andrea has written music for this band and arranged UK tours including a recent residency at Lyth Arts Centre in Scotland. She has just released an album of original songs with vocalist
Trudy Kerr
called 'The House". Most recently Andrea has performed the
Ronnie Scott's International Piano Festival
; Swanage, Marlborough and Ipswich Jazz Festivals with South African jazz stars
Claude Deppa
and
Brian Abrahams
; Teignmouth Jazz and Blues Festival with
Steve Waterman
; Stratford Jazz, Shrewsbury Jazz ; Scarborough Jazz Festival; and The Bulls Head Barnes with Ex Ronnie Scott sax player
Mornington Lockett.
She has performed with world greats Eddie Harris and Art Farmer. As well as being musical director of the
Dordogne Jazz Summer School
Andrea is a jazz piano professor and senior lecturer at Trinity Laban Conservatoire - one of the leading colleges in Britain for Jazz studies.
Andrea presents a weekly radio programme on
www.jazzlondonradio.com
; "Andrea Vicari's Jazz Doodles"; which debuts every Tuesday at 3pm and is repeated at various times throughout the week. In the past year she has broadcast interviews with leading jazz artists including John Taylor; Hiromi; US stars Bill Stewart; Marc Copland; John Abercrombie and Larry Goldings; plus Bill Laurance (Snarky Puppy); Omar Puente; Joe Stilgoe; Bobo Stenson and many more.
Andrea's latest project is a jazz musical called "The Austerity Playbook" which premiered to a full-house at Northern Stage in Newcastle
https://www.northernstage.co.uk/Event/theausterityplaybook
Andrea will be touring China with Jazz Extemporé in December 2017
http://www.andreavicari.com/newpages/tour.html
"Andrea Vicari's playing is a constant delight - intense, probing, and generating a seemingly endless succession of ideas"
JazzUK
"a sharp post-pob piano improviser and prolific composer - breathtakingly eclectic.
The Guardian
"one of the most brilliant young jazz musicians in the UK - an outstanding pianist and superbly fertile composer"
Penguin Rough Guide to Jazz
http://www.andreavicari.com

http://www.jazzschool-dordogne.co.uk
http://www.jazzlondonradio.com